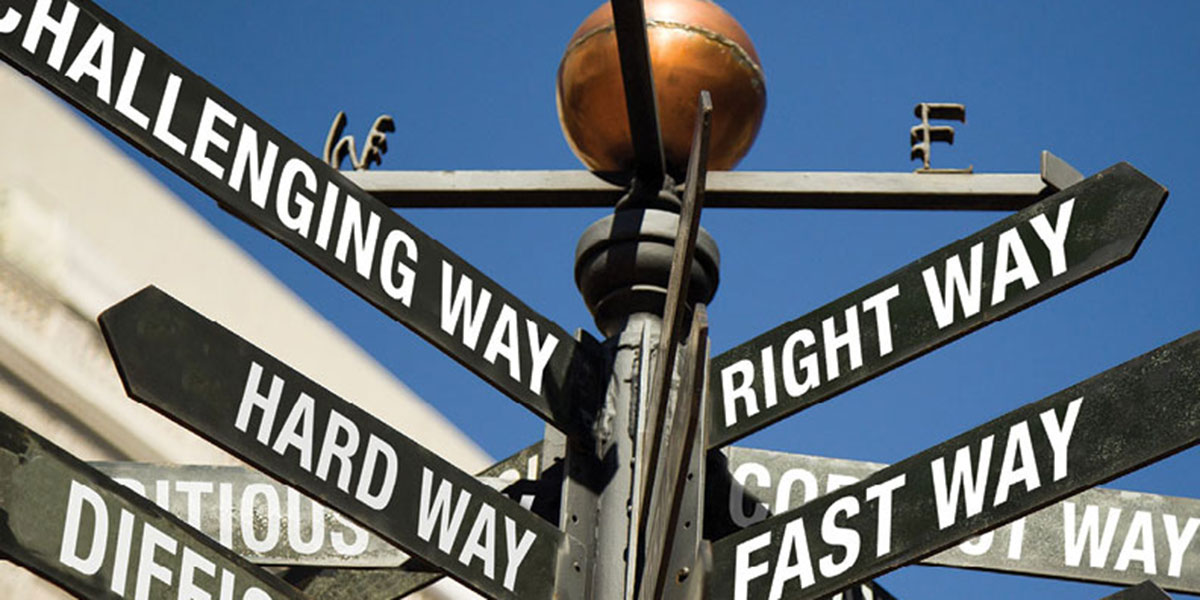 How Many Wrongs Make a Right?
The first try isn't always a sure thing.
By John Crump
You never know when a great idea will land on your plate. For Cason Thorsby, it was a choice between a side of soup or salad while having lunch on a 90-degree day in July. He chose soup.
"It was a pheasant noodle soup," Thorsby recalls. "My dad and I looked at each other simultaneously as we took our first bite. It was the epitome of that 'aha moment.'"
The wheels began turning. Thorsby, 19 and already running a tent rental company at the time, was not new to business. Now, he had found a new passion and wanted the world to share in the experience of this amazing soup.
Teaming with the local celebrity chef who had created the soup's flavorful combination, Thorsby and his partner quickly found that creating the recipe for the product to be marketed wasn't as simple as heating up the same ingredients on a stove.
The two spent the next three years perfecting their recipe's taste, but they didn't stop there. They worked with designers on branding and point-of-sale displays and attorneys for advice on trademarking designs and protecting the recipe—all while learning the complex ins and outs of FDA regulations.
Similar to Goldilocks and the Three Bears' porridge, Thorsby tried more than eight different formulations and co-packing companies until he found a recipe that was just right and recreated his first taste.
Ready to develop the next idea, the budding serial entrepreneur turned his interest and new-found consumable product insight to creating a liquid dietary supplement that reduces hangovers. Thorsby soon found that there would be more lessons to learn along the way because of strict international regulations on pharmaceutical-grade products, which meant a steep uphill climb to market.
"The FDA has hammered down on beverage companies," Thorsby says. "If you make claims that you're non-GMO, gluten-free, all-natural—anything like that—they require that every ingredient has supporting documentation."
That, however, wasn't enough to keep him from bringing more of his ideas to life. With Thorsby's current product, a sugar-free, natural alternative to flavored soda, he is building on past mistakes and lessons learned. In his quest for the ideal soda flavor, he turned his apartment into a "makeshift lab" and went into "R&D mode," sampling "hundreds" of formulations from 14 different countries.
Thorsby is proof that when a great idea presents itself, being an entrepreneur is not only about exploring a dream; it's about finding opportunities to learn and push forward.
PERSISTENCE PAYS OFF
Before the success of Macy's department store, Rowland H. Macy started seven other businesses that failed.
The Colonel's "Secret Recipe" for chicken was discarded over 1,000 times before it was added to a restaurant menu.
Long before Sony introduced its Sony Walkman and other wildly successful electronic products, company co-founders Masaru Ibuka and Akio Morita tried to bring an automated rice cooker to market. It failed miserably, selling fewer than 100 units.
Sir James Dyson, of vacuum cleaner fame, took 15 years and all of his savings to develop a bagless prototype that worked. He developed 5,126 previous prototypes that failed.
Before successfully launching The Huffington Post, Arianna Huffington had her second book rejected by 36 publishers.